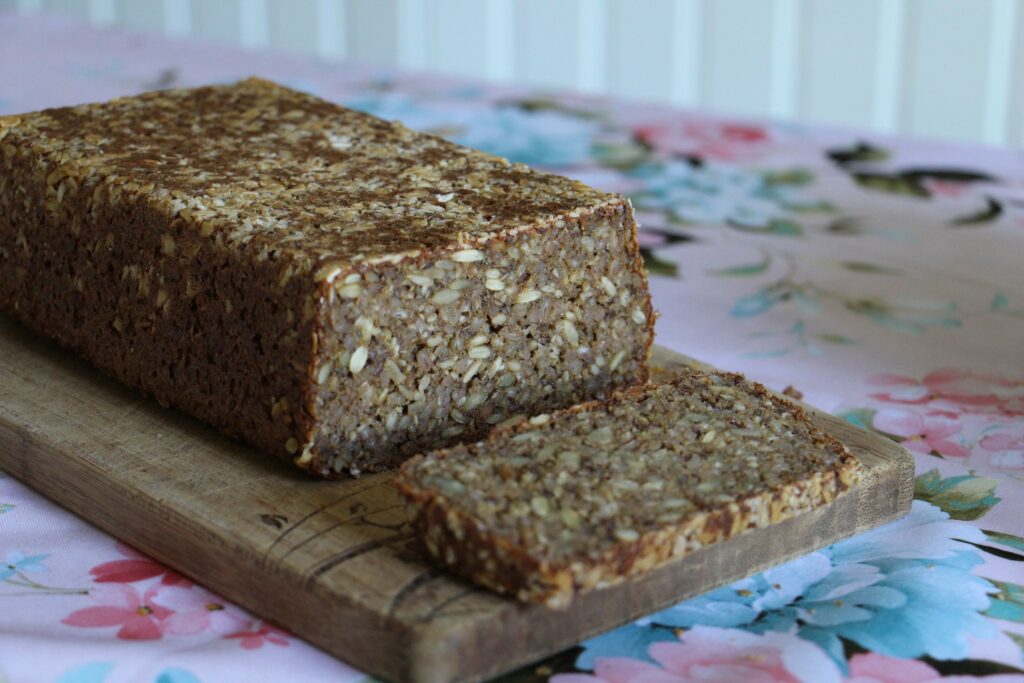 Germany has over 3,000 varieties of bread. Some are dense, dark and chewy like pumpernickel, and others are light and airy like the morning Brötchen. Bread is a twice a day staple in Germany. The Germans enjoy their morning bread with butter and jam, and their Abendbrot (evening bread/dinner) with a slice of cheese and meat.
This bread recipe is called Kornbeißer Brot, or grain biter bread. It's a dark rye bread made with rye berries, rye flour, and a large amount of mixed seeds. Unlike many dark rye breads, this one is a simple version that uses yeast instead of sourdough, so its perfect for a beginner bread baker.
If you're in the United States like me, you may have a hard time sourcing rye berries. I've had luck finding them at health food stores.
I hope you try out this recipe. It's perfect for open-faced sandwiches or morning toast.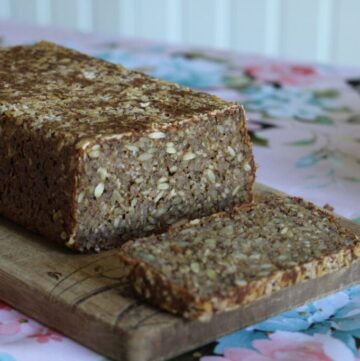 German Seeded Rye Bread / Kornbeißer Brot
A dense, seeded rye bread from Germany
Ingredients
250

grams

whole rye berries

250

ml

boiling water

40

g

molasses

20

g

fresh yeast

or 7g active dry yeast

250

ml

lukewarm water

20

g

salt

125

g

rye flour

250

g

mixed seeds

sesame, flax, sunflower, and pumpkin

1

handful of old-fashioned rolled oats
Instructions
Coarsely grind the rye berries.

Combine the boiling water and rye berries in a bowl and then cover and let rest for one hour. The berries will absorb the liquid and become soft. If any liquid remains after one hour, drain before combining with the rest of the ingredients.

Next add your yeast to a mixer, along with the lukewarm water and molasses. Stir until yeast is dissolved. If using active dry yeast, let sit for 5 minutes until yeast becomes foamy before adding in the other ingredients.

Add in the rye flour, soaked rye berries, salt, and mixed seeds. Using the dough hook attachment of your mixer, mix on medium speed until well combined. Scrape down the sides of the bowl as necessary.

Once the ingredients are well combined, mix on medium speed for 8 minutes.

Cover the bowl and place in a warm spot to rise. This will take about one hour, possibly more or less depending on the temperature of your home.

While waiting for the dough to rise, oil the loaf pan and sprinkle with old-fashioned rolled oats.

Once the dough has about doubled in size, pour into the prepared loaf pan. Using a spatula, lightly press the dough into the pan until the dough is compact and smooth on the surface.

Place on the bottom rack of a 240C/460F preheated oven for 10 minutes. Then reduced the temperature to 200C/400F for 40-50 minutes until golden brown and hollow when tapped. Let cool and then use a bread knife to slice and enjoy.
Video
Notes
If your rye berries don't absorb all of the boiling water, drain before combining with the rest of the ingredients.