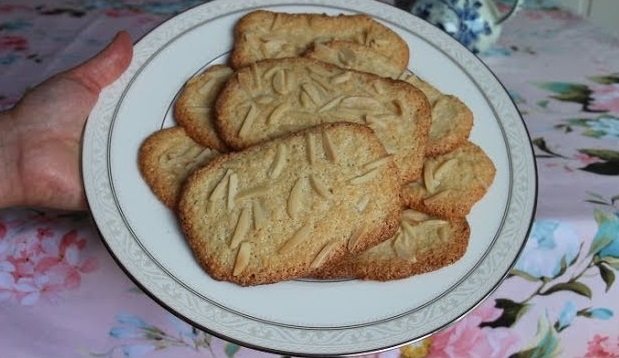 These cookies come from the Flemish speaking, northern region of Belgium. They are shaped to look like tartines or slices of bread. There is no flour in this recipe as these cookies are similar to Italian macaroons with eggs whites and ground nuts as the base. I blanched, peeled, and ground my own almonds for flour, but feel free to use finely ground, skinless almond flour if you're in a pinch for time. Doing it from scratch, however, does give a fresher, more flavorful result.
With so many egg whites used in these cookies (10!), you'll want to find a good way to use the leftover egg yolks. Be sure to see my recipe for Advocaat, a Dutch egg liqueur that's amazing in baked goods and mixed drinks and can even be given as Christmas gifts.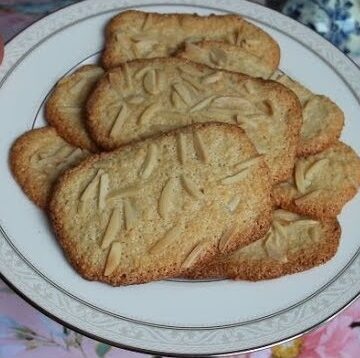 Flemish Almond Cookies / Amandelkoekjes
A Belgian cookie similar to an Italian macaroon.
Ingredients
3

cups

blanched almonds

2

cups

granulated sugar

10

egg whites

at room temperature

pinch

of salt

1

tsp

almond extract

2

tablespoons

all-purpose flour
Instructions
Bring a medium pot of water to a boil. When boiling, pour raw, whole almonds into the water and boil for 2-3 minutes. Strain into a colander.

Once cool enough to touch, pinch each almond and the skin will pop right off. Place the skinless almonds on a towel on top of a baking tray and let dry for a couple of hours. They need to be fully dry before the almonds can be ground.

Once fully dried, place the almonds into a food processor and grind to a find powder. Be careful not to overgrind or they will turn into almond butter.

Add in the all-purpose flour and almond extract and pulse until just combined. When finished, set aside.

Separate 10 room-temperature eggs and place the whites into a large mixing bowl. Set aside the egg yolks for another recipe.

Add a pinch of salt and using the whisk attachment of your mixer, beat the egg whites until they reach stiff peaks.

Now, alternating between the sugar and the almond mixture, fold them into the beaten egg whites. Be gentle when folding in the ingredients so you don't deflate the egg whites.

On a parchment lined baking sheet, spoon golf ball sized amounts of cookie dough onto the parchment. Using the back of a spoon or a spatula, spread the mixture into a rectangle, 3 inches x 1.5 inches and 1/4 inch thick (7.5 cm x 4 cm and 6mm thick) with at least 3 inches (7.5 cm) between the cookies. Sprinkle each cookie with slivered almonds.

Bake at 375F/190C for 17-20 minutes, or until the cookies are lightly browned around the edges but still lightly colored in the center.

Immediately remove the cookies with a metal spatula once they come out of the oven. If they sit too long, they will stick to the parchment paper. If this does happen, however, pour a small amount of cold water under the parchment paper and wait 30 seconds for the steam created to loosen the cookies from the paper, then quickly remove the cookies and let them cool on a rack. Eet smakelijk!
Video
Notes
You may be able to find already blanched almonds at your grocery store. If not, see the instructions above for making your own blanched almond flour from raw, whole almonds.