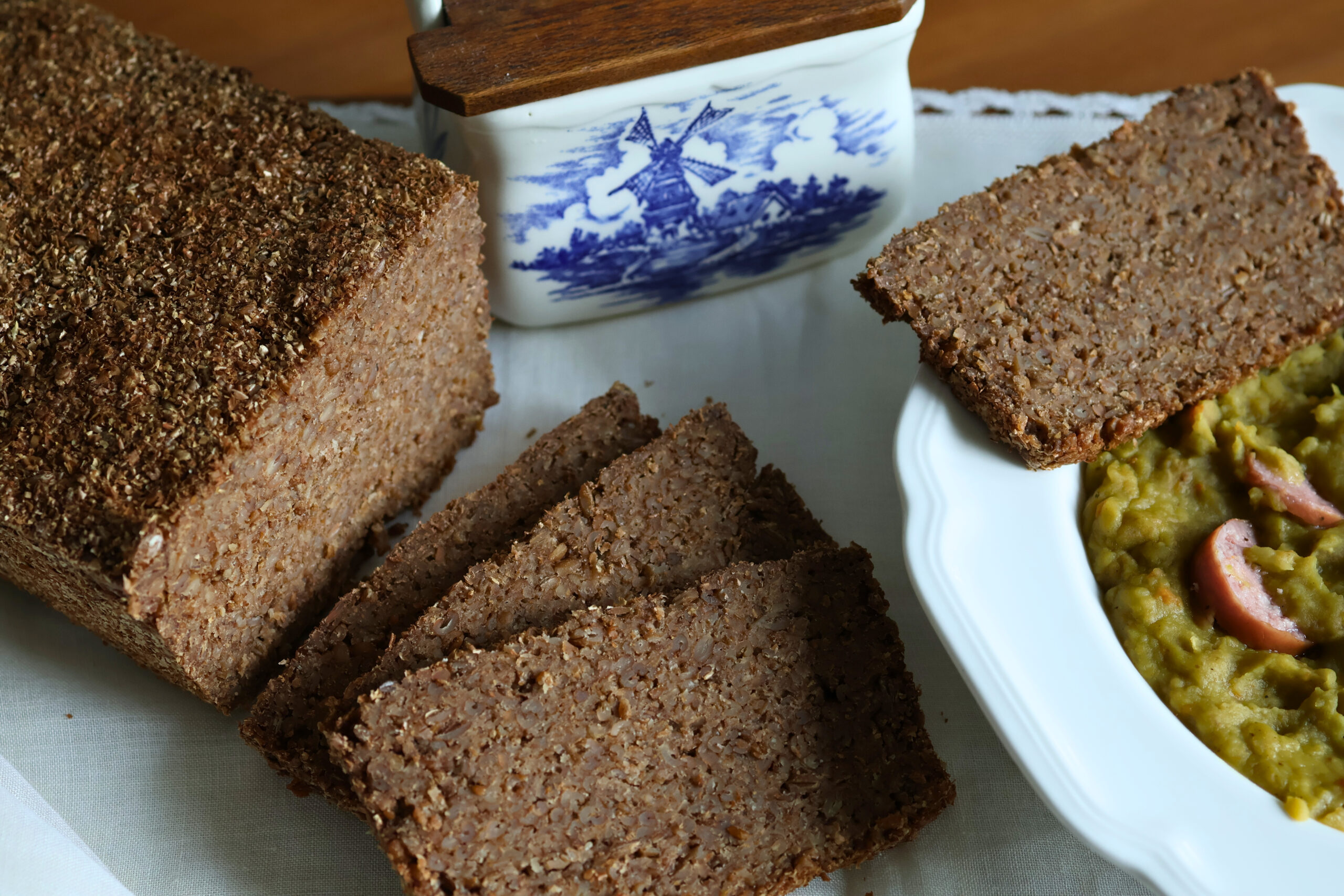 Fries roggebrood is a traditional Dutch bread made of mostly cracked rye berries. This bread steams for twelve hours in the oven and then rests for 48 hours before slicing.
Dense, dark, and chewy, Frisian rye bread tastes a lot like a sliceable breakfast porridge, as it contains no yeast or sourdough. Its inner consistency is quite sticky and it pairs well with meats and cheeses. The Dutch are known for eating this bread alongside a traditional pea soup called Snert.
The Netherlands has a varied bread baking tradition, everything from wheat breads studded with spices and dried fruit to these dark, heady ryes. Originally created for the poor, the baker would let the rye bread bake in the residual heat of the ovens overnight after he went home for the evening. The finer loaves made with refined flour would be baked during the day for the more well-to-do. Today, however, Frisian rye bread is a staple of Dutch cuisine and enjoyed by all.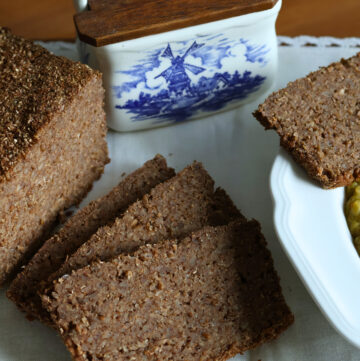 Frisian Rye Bread | Fries Roggebrood
A dark rye bread comprised mostly of cracked rye berries that is traditional to the Dutch province of Friesland. This bread is steamed at a low temperature for 12 hours and contains no yeast and no sourdough.
Ingredients
700

grams

cracked rye berries

4 cups

700

grams

water

3 cups

200

grams

whole wheat flour

1½ cups

13

grams

salt

2¼ teaspoons

water as needed

wheat bran for rolling the dough in
Instructions
The Night Before Baking
First begin by cracking your rye berries, if you're not able to buy them already cracked. I used a nut and spice grinder for this by pulsing small batches a few times until I had 700 grams. You could also use a high speed blender, but be careful not to turn it into flour. You want large chunks of rye in your finished bread. Reference the video for the consistency you're looking for.

Boil your water in a medium-sized pot, and then turn off the heat and stir in your cracked rye berries. Make sure all rye berries are submerged under the water.

Next, put the lid on the pot and wrap the whole pot in two bath towels to keep it insulated over night. Leave to soak for at least 12 hours.
The Next Day
Pour the soaked rye into a large bowl and break up large clumps with your hands.

Next, add the whole wheat flour (or you can use rye flour, if you don't want to use wheat) and the salt and work it through the soaked rye.

If your dough is not able to hold together when squeezed, then add a little water at a time until you reach this consistency.

Now, press all of the dough into a greased loaf pan, packing it down evenly so there are no air gaps in the final bread.

Generously sprinkle your work surface with wheat bran and remove your shaped loaf from the pan and press each side of the bread into the wheat bran until it is well coated.

Place the loaf back in the pan, gently reshaping as needed.

Wrap the loaf pan in both directions with aluminum foil, making sure to seal all seams.

Place an oven-safe pan of water onto the bottom rack of a 110℃ / 230℉ preheated oven and place the foil-covered loaf pan on the middle rack. Bake for 12 hours, periodically checking your pan of water and adding more as needed.

After 12 hours, remove your bread from the oven but leave it covered in the foil for 24 hours.
1 Day After Baking
Remove the bread from the pan after it has been covered for 24 hours. Let it sit out on a cooling rack to let the surface dry for another 24 hours.
2 Days After Baking
Thinly slice your bread with a serrated bread knife and enjoy with slices of meats and cheese, crème fraiche topped with sliced beets and herring, or a hot bowl of split pea soup.
Video