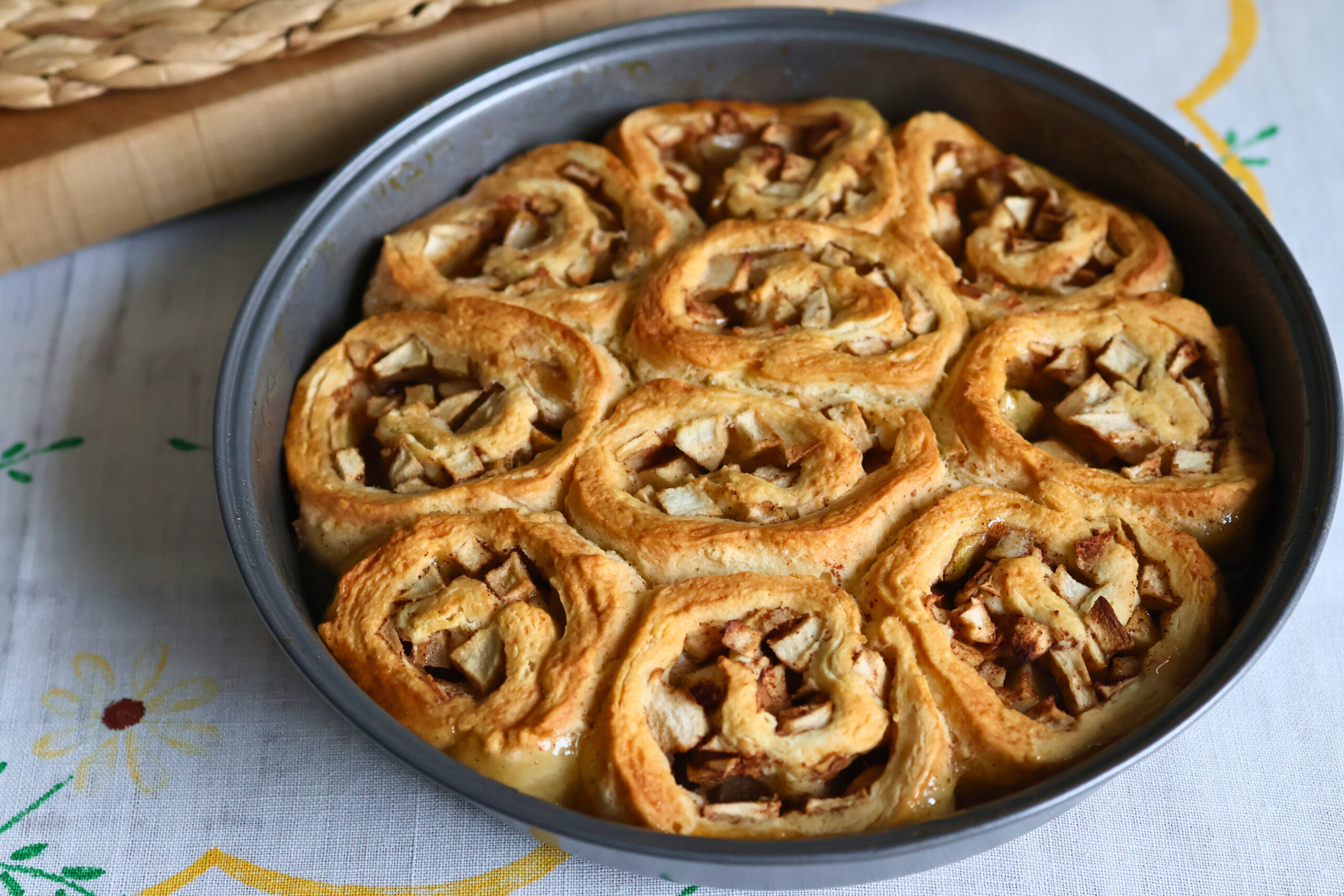 This is a Victorian recipe that comes from the West Country of England, more specifically the county of Devon. The West Country is known for its apples and boasts an excellent cider-making tradition, along with many apple desserts, such as apple dappy, as well as apple cakes from Dorset, Devon, and Somerset.
This particular recipe is made from a scone-like dough that is rolled up with a spiced, apple filling, and soaked in a sweet lemon syrup. These are best served hot with a drizzle of warm custard, clotted cream, or homemade whipped cream. I bet these would be even more divine with a scoop of vanilla ice cream!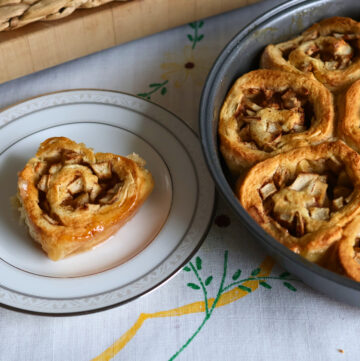 Devonshire Apple Dappy | Apple Cinnamon Rolls from England
Apple cinnamon rolls made with a scone dough, filled with spiced apples, and soaked in a sweet, lemon syrup. Serve these hot with custard, clotted cream, or whipped cream.
Ingredients
Lemon Syrup
200

ml

water

7 oz

100

g

granulated sugar

½ cup

the juice of one lemon

the peeled rind of one lemon

1

tbsp

golden syrup

see note

1

tbsp

unsalted butter
Dough
270

g

self-rising flour

1 cup + 2 tbsp

1

tsp

baking powder

60

g

unsalted butter

4 tbsp

150

ml

whole milk

scant ⅔ cup
Filling
2

baking apples, peeled & diced

2

tbsp

Demerara or Turbinado sugar

see note

½

tsp

ground cinnamon

½

tsp

mixed spice

see note
Instructions
Syrup
Begin by making a soaking syrup for the rolls. To a small saucepan over medium heat, add the water, sugar, lemon juice, lemon peel, golden syrup, and butter.

Let the syrup come to a boil and then remove it from the heat. Strain through a sieve into a bowl to remove the lemon peel. Let cool while you make the apple rolls.
Dough
Whisk together the self-rising flour and baking powder.

Add the butter and work it into the dough until it resembles wet sand.

Using a fork, stir in the milk bringing everything together until it forms a shaggy dough. Dump the contents of the bowl onto your work surface, and briefly knead it until it forms a smooth dough.

Form the dough into a flat square and wrap in plastic wrap and refrigerate for 1 hour.
Filling
While the dough is chilling, dice your apple and then whisk together the sugar and spices and then stir them into your apples. Cover and set aside until your dough is ready.
Assembly
Roll out your chilled dough on a piece of parchment paper sprinkled with flour. Roll it into a 10 inch or 25.5 cm square.

Spread your apples over the dough, leaving a small border around the edge. Don't overfill it, or it will be hard to roll up. You may not use all of your apple filling. Save the extra to top your morning oatmeal.

Now, take your parchment paper and use it to help you roll your dough and filling, trying to create as tight of a spiral as possible. If the dough sticks to the parchment, just use your finger to gently release it.

Using a serrated, bread knife, gently cut 1 inch or 2.5 cm thick slices. Discard the end pieces since they don't contain much filling. Place the slices cut-side up in a 9 inch round cake pan (or rectangular can work too).

Pour the lemon syrup over the rolls. Don't be alarmed by the amount of liquid. The dough will magically absorb it.

Bake for 30-35 minutes in a 190℃ / 375℉ pre-heated oven, until puffed up and golden brown.

Serve hot with warm custard, clotted cream, whipped cream, or vanilla ice cream.
Video
Notes
Golden syrup is a form of inverted sugar made during the process of refining sugar. It's very popular in the UK. You can find it on Amazon or at British import stores, or you can substitute it with honey or maple syrup.
If you can't find Demerara or Turbinado sugar, you can substitute it with light brown sugar.
Mixed spice is a UK spice blend used in many baked goods. You can create the mix at home by combining 1 tbsp ground allspice, 1 tbsp ground cinnamon, 1 tbsp ground nutmeg, 2 tsp ground mace, 1 tsp ground cloves, 1 tsp ground coriander, and 1 tsp ground Ginger. Store in a closed jar and used for other British baked goods such as hot cross buns and soul cakes.