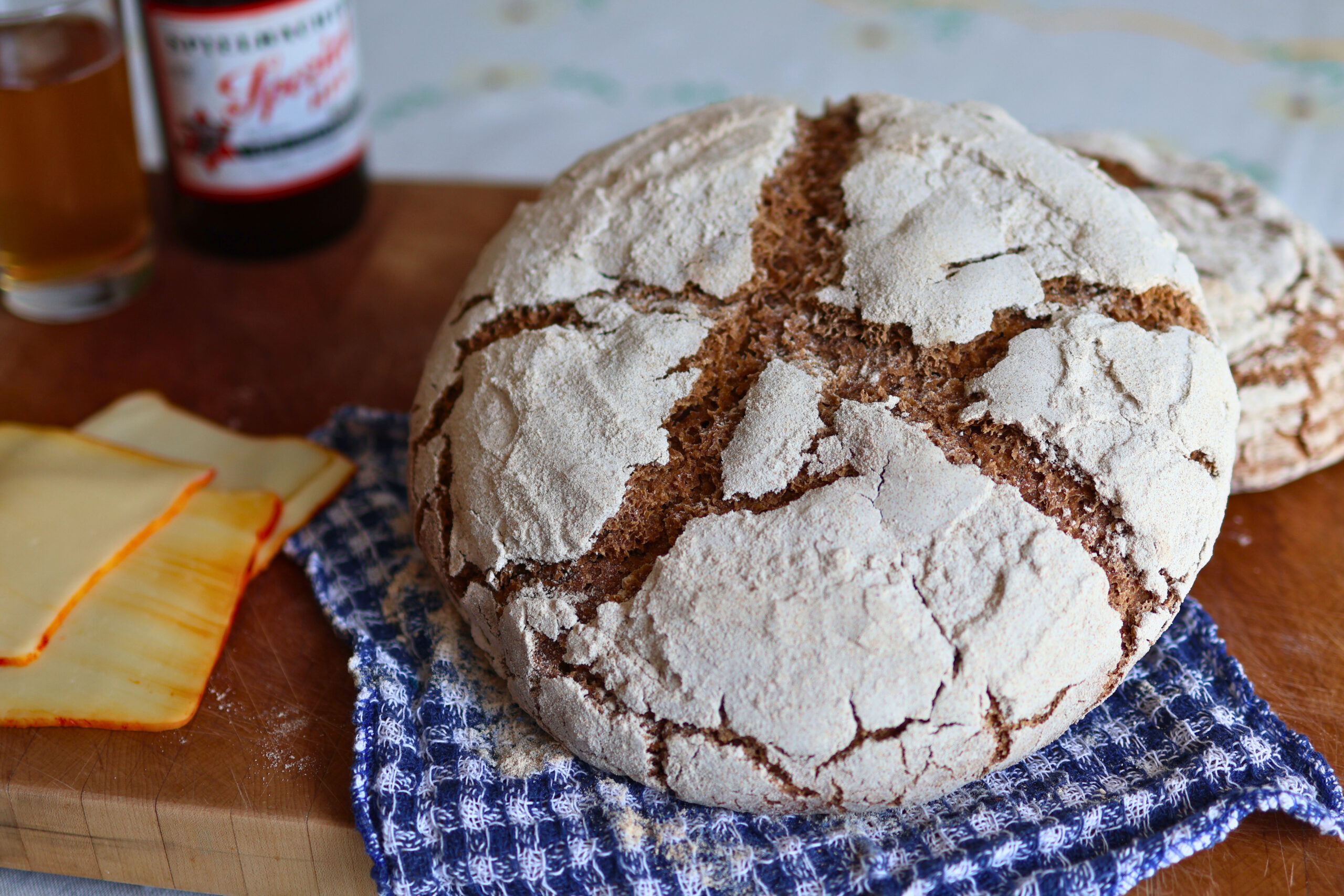 What makes this bread uniquely Bavarian is the addition of something the Germans call Brotgewürz, or bread spice. This is a blend of spices usually including caraway, fennel, anise, and coriander. While Brotgewürz can be found in breads in other parts of Germany, it is most common and most iconic in southern Germany, usually Bavaria. Once you get up to about North-Rhine Westphalia, bread spices disappear and the locals lose their taste for this addition to their daily bread.
Many different types of bread are enjoyed throughout Bavaria, but I've chosen to feature the 100% rye sourdough because it is the heartiest and most rustic of the local breads. Other breads include ryes mixed with wheat, spelt, and other grains, and of course, Laugengebäck, the iconic pretzel bread in its varying shapes.
If you're unfamiliar with the 16 German states, Bavaria is the largest state and sits in the southeastern corner bordering the Czech Republic and Austria. It has a rich Catholic culture, as well as an Alpine heritage, as the Alps run through a large portion of it. When foreigners think of Germany, they often picture Bavarian icons such as pretzels (Brezeln), Lederhosen, Oktoberfest, and castles like Neuschwanstein.
Bavarian Rye Bread | Bayerisches Roggenbrot
A 100% rye sourdough bread with German bread spices – caraway, fennel, anise, and coriander.
Ingredients
500

g

medium rye flour (German bread type 1150)

4¾ cups

320

g

sourdough starter (100% hydration)

1⅓ cup

15

g

Salt

2½ tsp

1

tsp

German bread spice

see note

350

ml

Water

1½ cups
Instructions
Combine the flour with the sourdough, salt, bread spices and water in a bowl, knead all the ingredients by hand and then let it rest for at least an hour (and has doubled in size) – preferably longer or overnight. It is important to let the dough rest for a long time so that it can work well, is easier to digest and develops its full flavor.

Next, shape the bread. To do this, spread flour on a work surface and knead the dough from the outside in until it is a compact ball. This prevents too much air from getting into the dough and the bread later having holes or not rising properly. Now put the finished bread into a flour-lined proving basket and let it rise for another hour, or until doubled in size.

In the meantime, preheat the oven to 428℉ / 220℃ along with a baking stone, Dutch oven, or cast iron skillet that you will bake your bread on. Also, heat some kind of vessel on the bottom rack that you can pour water into. Make sure it is something that won't break when cool water is poured onto it. I use a small cast iron skillet.

Tip the risen dough onto a piece of parchment paper and then carry the parchment to the oven and place it on your baking stone. Add 1 cup of water to your vessel on the bottom rack.

Bake the bread in the preheated oven for about an hour. After 20 minutes, turn the temperature down to 350℉ / 180℃ degrees and then bake for a remaining 35-40 minutes, or until hollow sounding when tapped on the bottom.

Let fully cool on a rack before slicing and enjoying.
Video
Notes
German bread spices are a mixture of caraway, fennel, anise, and coriander. You can make your own mixture by combining          To make a sourdough starter: For the sourdough, mix water and flour in a ratio of 1 to 1 over several days, for example 100 grams of flour and 100 grams of water, depending on the desired amount. Mix the whole thing, let it stand and add some more water and flour. Repeat this process until lactic acid and acetic acid bacteria have formed, which takes about three to four days. When the sourdough smells sour and bubbles, it is ready. In the next step, the sourdough is added to the bread dough as a finished ingredient.