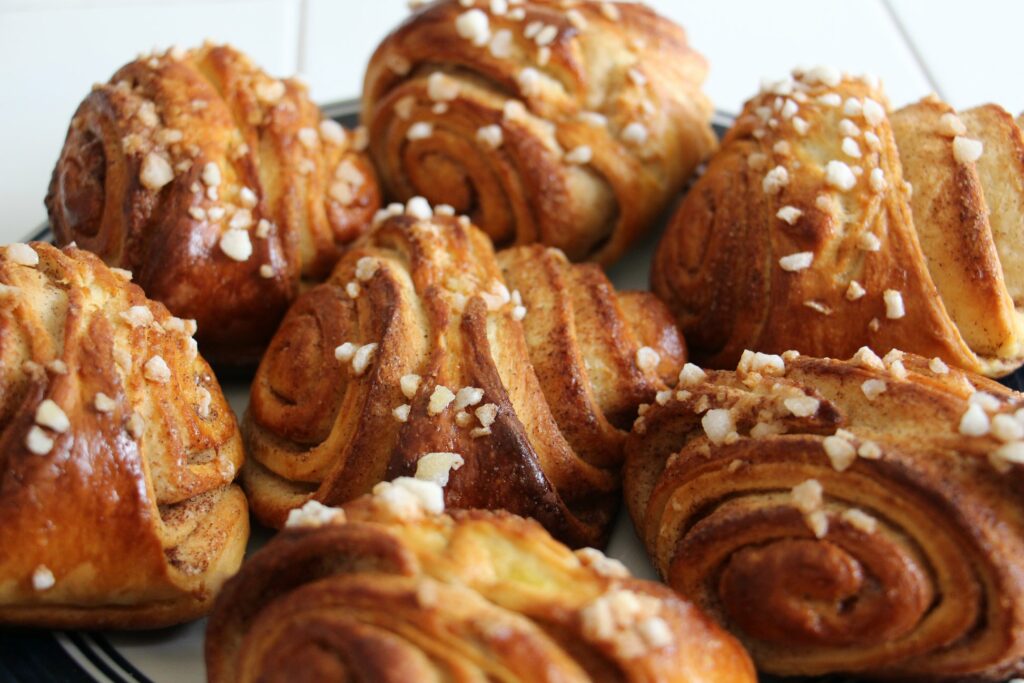 This cinnamon roll from Finland features a cardamom flavored dough with a cinnamon sugar filling. It's topped with pearl sugar for a sweet crunch. The name Korvapuusti translates to "slapped ears" and it's believed to be called this to describe the shape of the pastry, though I'm of the opinion that these are much more attractive than slapped ears.
Whatever they're called, I hope you'll give this recipe a try. They're perfect alongside a cup of coffee on a chilly fall morning.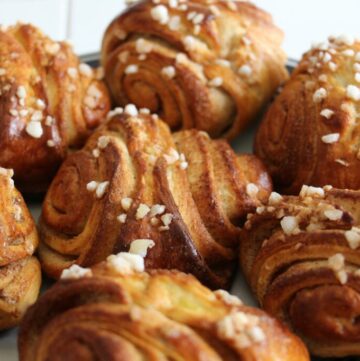 Finnish Cinnamon Rolls / Korvapuusti
A cinnamon and cardamom spiced bun from Finland, called "slapped ears" in Finnish.
Ingredients
Dough
500

ml

lukewarm

whole milk (2 cups + 2 tbsp)

50

g

fresh yeast

16 g active dry yeast

180

g

granulated sugar

heaping 3/4 cup

18

g

ground cardamom

1 tbsp + 1 tsp

1

egg

1

kilogram

all-purpose flour

6 1/2 cups

1 ½

tsp

salt

170

g

unsalted butter at room temperature

1 1/2 sticks
Filling
150

g

melted butter

1 ⅓ sticks

6

tbsp

granulated sugar

1

tbsp

+ 2 tsp cinnamon
Instructions
Pour the lukewarm milk into a large mixing bowl. Add the yeast and whisk until dissolved. Whisk in the granulated sugar, egg, and ground cardamom.

Next begin adding in the flour a little bit at a time. This recipe takes up to 1 kilo of flour but breadmaking often varies and it's best to add it gradually and stop when your dough reaches the perfect consistency. Also add the salt as you begin to add the flour. You will begin with a whisk, then switch to a wooden spoon, and then eventually switch to using your hands when you can no longer easily stir the dough.

When you're about halfway through adding the flour, work in the softened butter. Once fully incorporated, continue adding flour until the dough comes clean off the sides of the bowl and is no longer sticky.

Place the dough into an oiled bowl, cover with a kitchen towel, and let rise in a warm spot until doubled in size. This will take about one hour depending on the temperature in your kitchen.

Punch down the dough on a lightly floured surface and divide the dough into two equally sized portions. Cover and set aside one half of the dough.

Roll out the dough into a large rectangle, about 60x40cm or 23x16in. Spread half of the melted butter onto the dough. Stir together the sugar and cinnamon and sprinkle half of it over the butter.

Beginning with the long side, tightly roll the dough into a tube, placing the seam side down once rolled.

Cut into fifteen trapezoids and place on a baking sheet. To shape, stand each piece narrow side up and press the narrow side down firmly with your index finger. Cover and let rise until puffy, about 30 minutes.

Repeat this whole process with the remaining half of the dough, melted butter, and cinnamon sugar mixture.

Before baking, beat the egg and brush over the rolls. Sprinkle each roll generously with pearl sugar.

Bake for 10-15 minutes in a 225C/435F preheated oven until golden brown in color. Transfer to a rack to cool. Nauti ateriastasi!
Video
Notes
Pearl sugar can be found online, in specialty stores, or substituted with crushed sugar cubes or sparkling sugar.