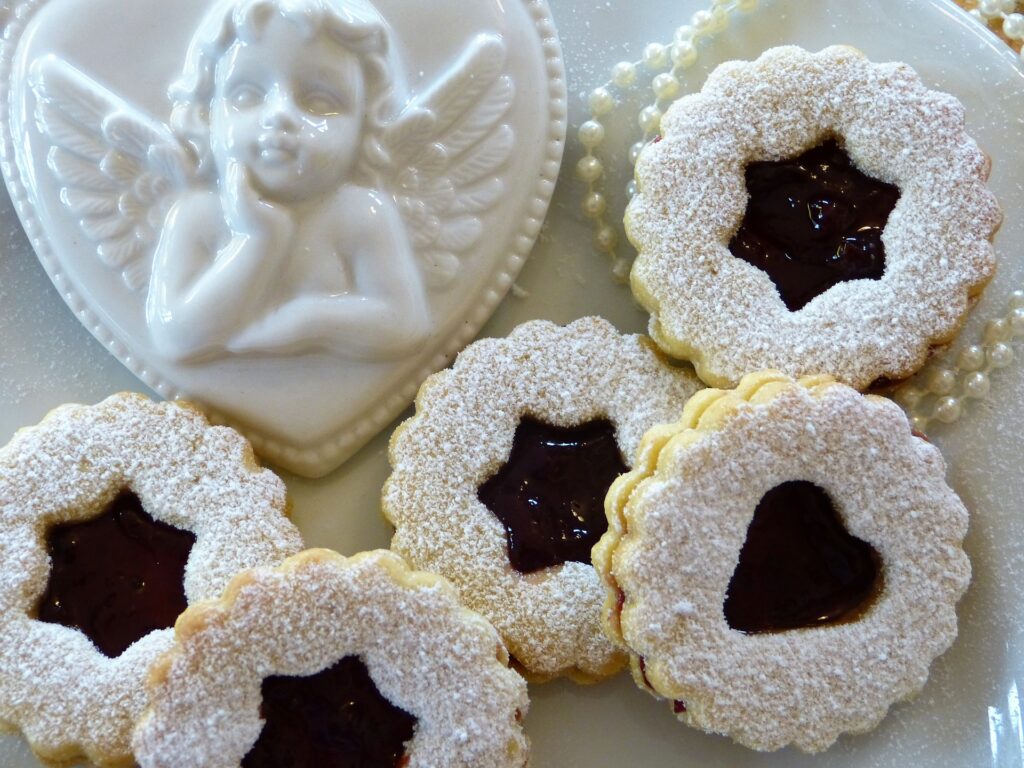 Germans love their Christmas cookies, and Spitzbuben are a classic. Two Linzer cookies are stuck together with red currant jelly and topped with powdered sugar. These go perfect with a cup of coffee on a chilly winter morning!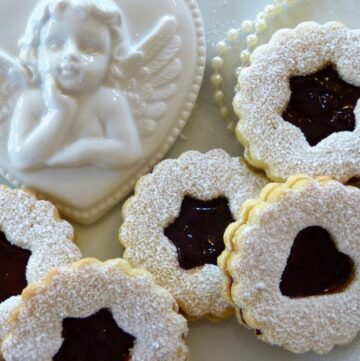 German Linzer Cookies / Spitzbuben
A sandwich style German Christmas cookie made with ground nuts in the dough. Traditional flavors of jelly for the center include red currant, apricot, and seedless raspberry.
Ingredients
400

g

all-purpose flour

3 1/3 cups

125

g

ground hazelnuts

1 cup

200

g

sugar

heaping cup

250

g

cubed

cold, unsalted butter (about 2 sticks)

1

egg

1

tsp

vanilla

or 1 packet vanilla sugar

1

jar red currant jelly

see other flavor ideas in the description

100

g

powdered sugar

about 1 cup
Instructions
In a food processor (or by hand if you don't have one), pulse together the flour, hazelnuts, and sugar. Then add in the cold, cubed butter and pulse until it looks like wet sand. Next add in the egg and vanilla extract, then pulse until it begins to stick together.

Pour the dough into a bowl or on a work surface and knead the dough briefly until it forms a smooth dough. Divide in half and form two discs. Wrap the dough disks in plastic wrap and then place in the refrigerator for 1 hour.

After 1 hour, roll out one section of dough until it is 6mm or 1/4″ thick. Place the dough on a cookie sheet and put in the freezer for 5 minutes. This will make the cutting out process easier.

Using a circular cookie cutter with a decorative center cut out, cut out the top circles for the cookies and place on a parchment lined baking sheet. Then repeat and cut out the bottom circles (without the decorative center cut out). Make sure you cut out a matching number of top and bottom cookie circles.

Bake in a 190C/375F preheated oven for 10-12 minutes. These cookies burn very easily so keep an eye out that they don't get too brown. You want them to be lightly golden around the edges and pale in the center.

Transfer to a rack and let cool.

Place the cooled cookie tops on a foil lined cookie sheet. Sprinkle the tops with powdered sugar and set tray aside.

Place the bottom cookies on a different foiled lined cookie sheet. Place the cookies bottom side up.

Gently warm your jelly in the microwave or on the stove. You want it to be smooth and pourable. Place 1 teaspoon of jelly on each up-turned bottom cookie. Place the powdered sugared tops over the jelly and gently press to secure. Place the cookies in the refrigerator for 30 minutes to 1 hour to let the jelly reset.

Place on a serving platter and enjoy. Guten appetit and frohe Weihnachten!
Video