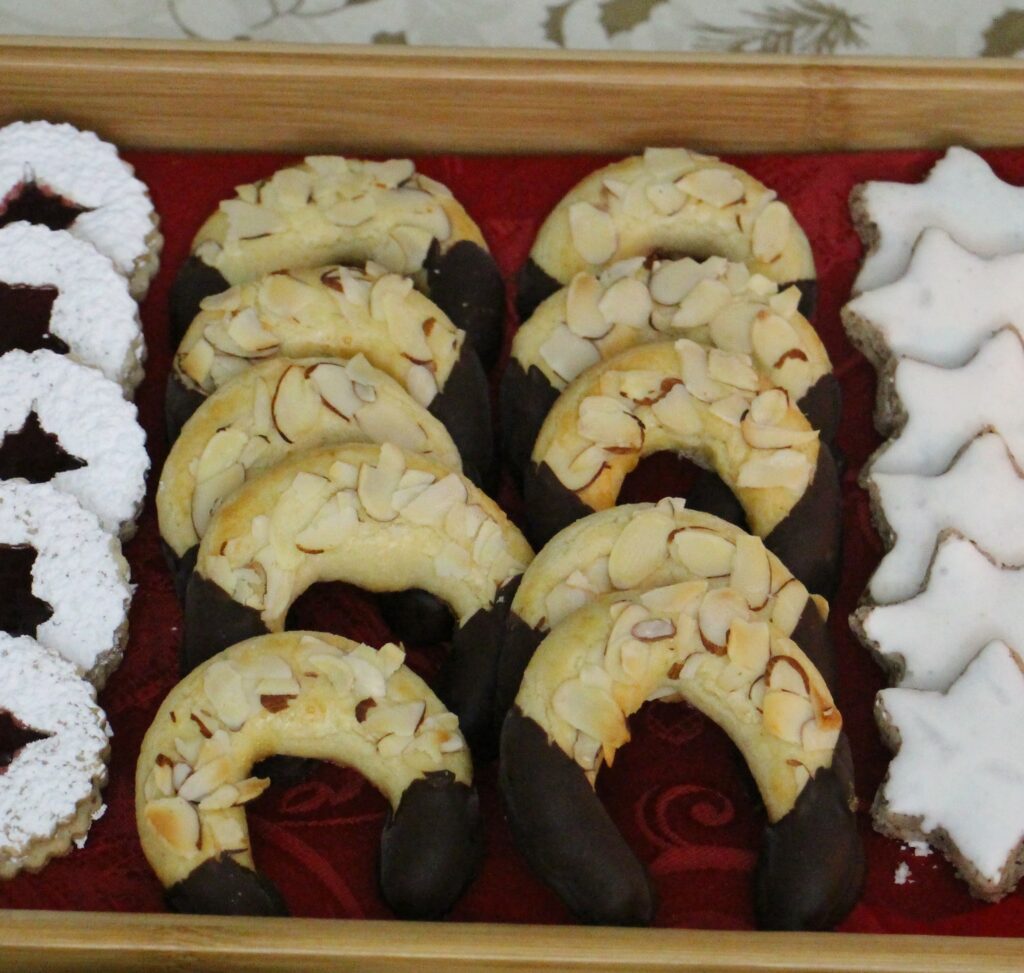 Imagine it is Heiligabend (Christmas Eve), and you make your way to Oma's house. She will most certainly have a plate of Weihnachtsplätzchen (Christmas cookies) waiting for you. Mandelhörnchen (Almond horn cookies) are an essential part of this classic spread.
So pour a mug of Glühwein, and enjoy one of these delicious chocolate-dipped treats!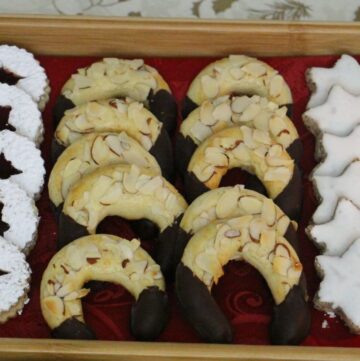 German Almond Horn Cookies / Mandelhörnchen
A German Christmas cookie made with a short crust dough with ground almonds. Topped with sliced almonds and dipped in chocolate.
Ingredients
For the dough
250

g

all-purpose flour

heaping 2 cups

125

g

ground almonds

1 1/4 cups

125

g

sugar

3/4 cup

1/4

tsp

baking powder

200

grams

unsalted

softened butter (2/3 cup)

3

egg yolks

1

tsp

vanilla extract or 1 packet vanilla sugar
For decorating
1

egg white

125

g

sliced almonds

3/4 cup

100

g

dark chocolate

5 oz
Instructions
To a mixer (or by hand), cream together the butter, sugar, and vanilla extract. Then add the egg yolks and mix until fully combined. Then add in the flour, baking powder, and almond flour. Mix just until a dough forms.

Roll out your dough into a log and then, taking small pieces, roll out crescent shapes. Place the crescents on a parchment lined baking sheet.

Brush a lightly beaten egg white over the middle part of each crescent and lightly press on the almond slices onto the center part of the cookie.

Bake in a 190C/375F preheated oven for 10-12 minutes, or until just golden around the edges. Keep an eye on the baking cookies because they burn very easily.

Place on a rack to cool and let come to room temperature before the next step.

Gently melt your chocolate either in a double boiler on the stove or in the microwave. Dip the ends of each cookie in the melted chocolate and place on a parchment lined baking sheet. Place the cookie sheet in the freezer for about 15 minutes to let the chocolate harden. Transfer to a platter and enjoy. Guten appetit and frohe Weihnachten!
Video