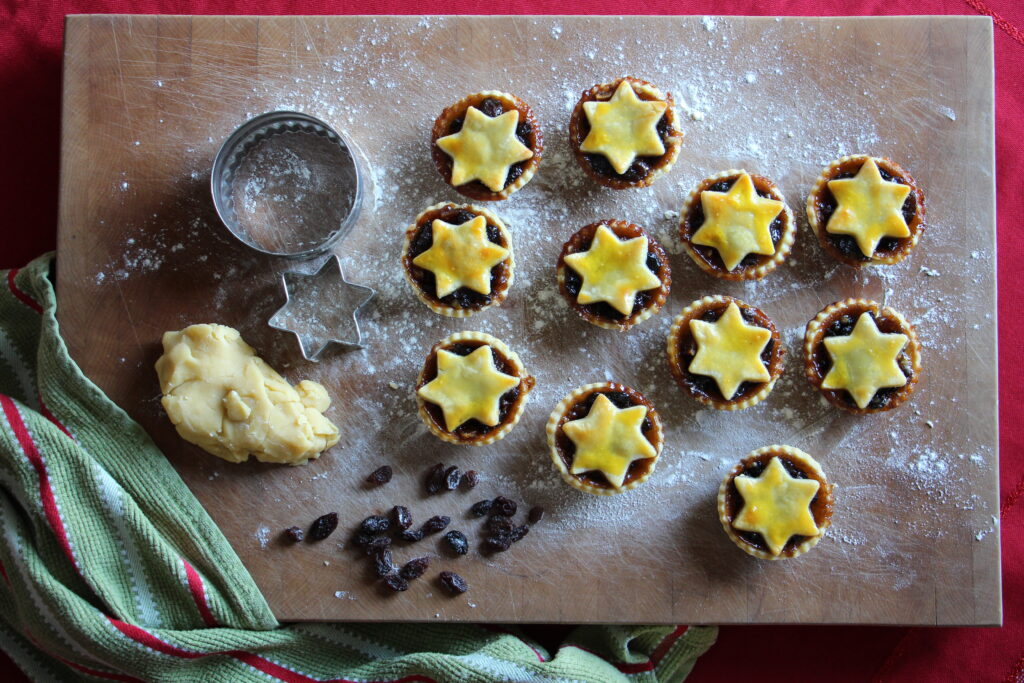 While American children are setting out milk and cookies on Christmas Eve, across the pond in England, English children are setting out mince pies and sherry for Father Christmas. Mince pies date back all the way to the Middle Ages when the recipe used to contain meat, dried fruit, spices, and sugar, but as the centuries went on, meat was eventually left out of the recipe and we end up with the mincemeat of today – dried and candied fruits, spices, sugar, alcohol, apple, and suet (the only animal product to remain in the recipe).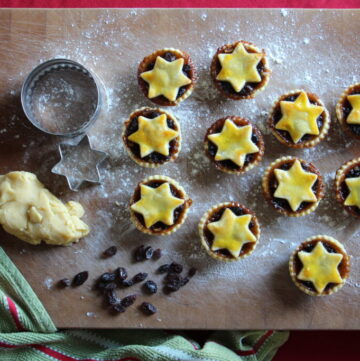 English Mince Pies
Mini pies filled with dried fruit, spices, sugar, and brandy/rum. Set out mince pies and sherry on Christmas Eve for Father Christmas!
Ingredients
Mincemeat
180

g

dried currants

1 1/4 cup

180

g

raisins

1 1/4 cup

180

g

cooking apple

peeled and diced (6 oz)

50

g

candied orange peel

1/3 cup

50

g

prunes

pitted and chopped

115

g

shredded suet

1/2 cup (can substitute frozen, grated butter if you can't find suet)

115

g

brown sugar

1/2 cup packed

1/2

tsp

ground cinnamon

1/2

tsp

ground mace

1/2

tsp

ground cloves

1/4

tsp

ground nutmeg

1/4

tsp

ground ginger

pinch

of salt

1/2

lemon

zest and juice

300

ml

brandy or rum

or a mixture of the two (1 1/4 cups)
Shortcrust
185

g

all-purpose flour

1 1/2 cups

20

g

powdered sugar

2 tbsp

100

g

cold

unsalted butter, cubed (7 tbsp)

1

tbsp

cold water

1

egg yolk

1

egg yolk + 1 tbsp milk for glazing
Instructions
Place all ingredients for the mincemeat into a medium sized bowl and stir well to combine. Then pour brandy or rum over the ingredients, adding more if necessary to cover all of the ingredients. Cover the bowl and let it sit in the refrigerator overnight.

The next day, stir the mincemeat and divide amongst sterilized jam jars and store in the fridge until ready to use. Mincemeat is best if made 1 month in advance but can be used the next day if needed. The flavor does development over time, however.

To make the shortcrust, mix the flour, sugar, and salt in a large bowl. Rub the butter into the flour with your fingers or a pastry cutter until it is like wet sand. Add the water and egg yolk and knead until it forms a smooth dough. You can also do this in the food processor, if you have one. Wrap the dough in plastic wrap and refrigerate for 30 minutes.

Roll out your dough on a lightly floured surface or between two layers of parchment paper. Roll it until it is 1/4″ (6mm) thick. Cut out 12 fluted circles to fit your pie mold. Your circular cutter should be slightly larger than the pie molds so the dough sits slightly raised above the edge. Then roll our your dough scraps and cut out 12 stars to fit over the top of each pie. Set the stars aside until you fill the pies.

Give the mincemeat a stir and then spoon in enough mincemeat to fill each pie about three quarters of the way. Then gently press a star over each pie. Then whisk together the egg yolk and tablespoon of milk and brush each star lightly with the egg wash.

Bake the pies in a 350F/180C preheated oven for 20-25 minutes until golden and bubbling. Let the pies cool in the pan for about 10 minutes after removing them from the oven so they don't fall apart when you remove them from the pan. Let cool on a rack and enjoy at room temperature.
Video
Notes
Mincemeat is best if made 1 month in advance but can be used the next day if needed. A stronger flavor develops over time.
This recipe makes 32 oz of mincemeat but only about 8 oz is used to make the mince pies. Quadruple the shortcrust pastry recipe if you want to use all of the mincemeat at once. That will make about 48 mince pies depending on the size of your pies.