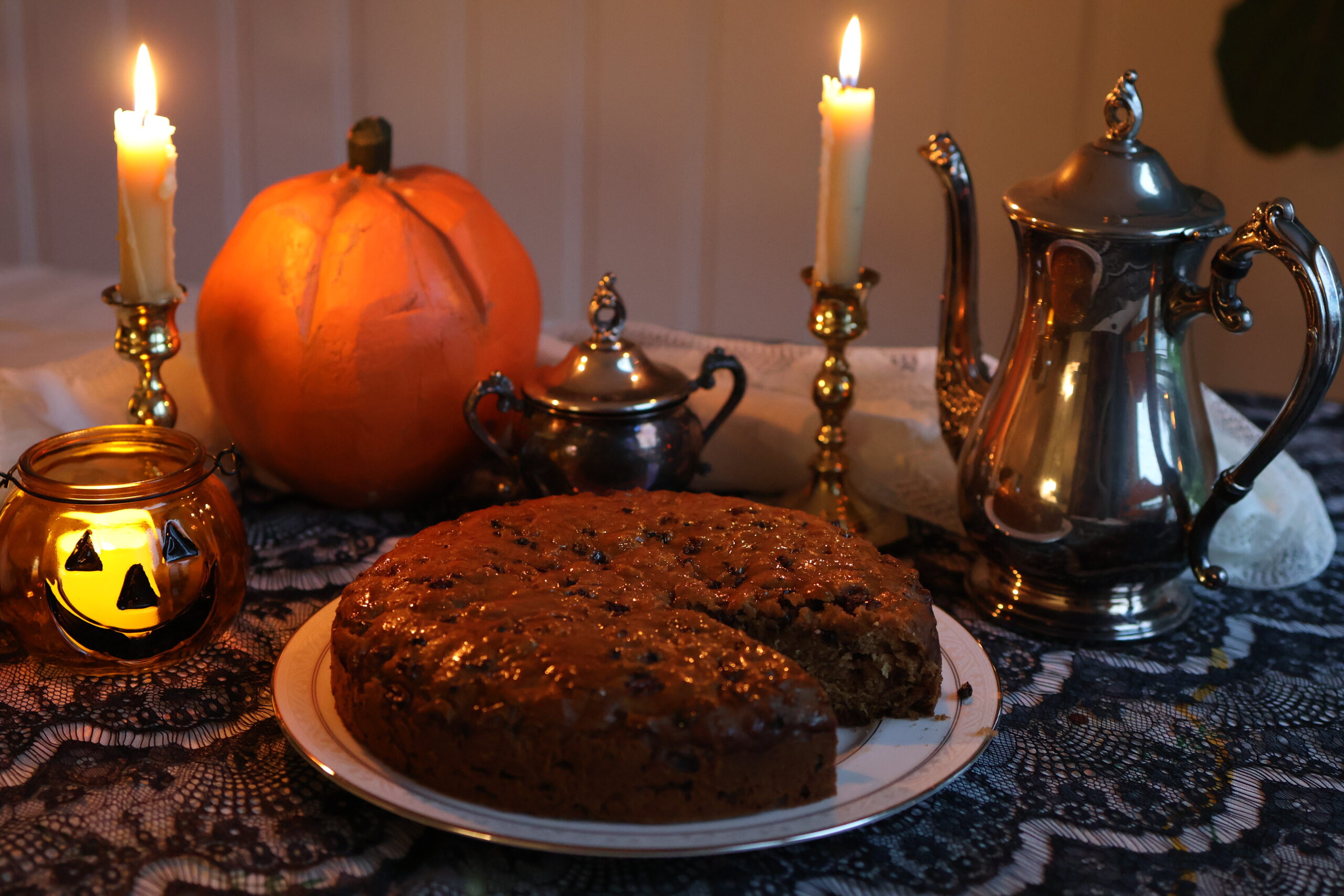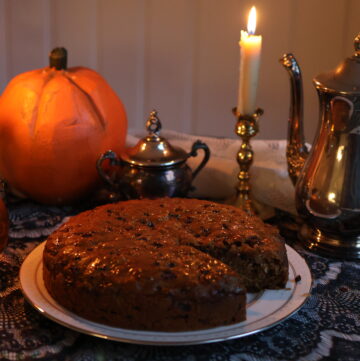 Irish Barmbrack | Irish Halloween Cake
A spiced tea cake from Ireland that is studded with tea-soaked dried fruit. This cake is very often eaten for Halloween and charms are hidden inside — a ring, a bean/pea, a cloth, and a coin. If you find a charm in your slice, it is supposed to tell your fortune. A ring means you will marry, a bean/pea means you will not marry, a cloth means you will be poor, and a coin means you will be wealthy. Include this fun game and yummy cake at your next Halloween party!
Ingredients
475

ml

strong black tea

2 cups

130

grams

raisins

1 cup

100

grams

mixed dried fruit such as dried currants and golden raisins (sultanas)

¾ cup

2

tbsp

chopped candied lemon peel

3

tbsp

chopped candied orange peel

280

grams

all-purpose flour

2 ¼ cups

65

grams

light brown sugar

⅓ cup

2¼

tsp

baking soda

1¼

tsp

ground cinnamon

¼

tsp

ground nutmeg

¼

tsp

ground cloves

1

egg

lightly beaten

80

ml

whole milk

⅓ cup

100

grams

unsalted butter, melted

7 tbsp

2-4

tbsp

honey
Instructions
Brew strong black tea and soak the dried fruit and candied peel for at least two hours. It can be left as long as overnight.

Drain the dried fruit but reserve the liquid.

In a large bowl whisk together the flour, sugar, spices, and baking soda.

Make a well in the center and add the egg, milk, and melted butter. Stir until roughly combined. Streaks of flour will still be visible.

Add in the drained fruit and peel and stir until it comes together. Add some of the reserved tea in a tablespoon at a time until a thick but spreadable cake batter is formed.

Pour the batter into a 9 inch springform pan lined on the bottom with parchment paper. Smooth the batter evenly up to the sides of the pan.

Bake in a 160℃ / 325℉ pre-heated oven for 35-40 minutes, or until a toothpick comes out clean.

When the cake is finished baking, pour a couple of tablespoons of honey onto the surface of the cake and brush it evenly with a pastry brush. Put the cake back into the oven for 5 minutes to allow the honey to melt and glaze the top of the cake.

Let the cake cool on a rack for 10 minutes and then remove it from the springform pan to finish cooling completely.

If you want to add charms to your cake, flip your completely cooled cake over onto a plate and make small slits on the bottom of the cake with a knife and slide your charms into each slit. Flip it back over and serve. Make sure to warn those that you are serving it to that there might be non-edible pieces in their slice of cake.
Video
Notes
Charms:
Ring – you will get married
Bean or pea – you will remain single
Cloth – you will be poor
Coin – you will be rich