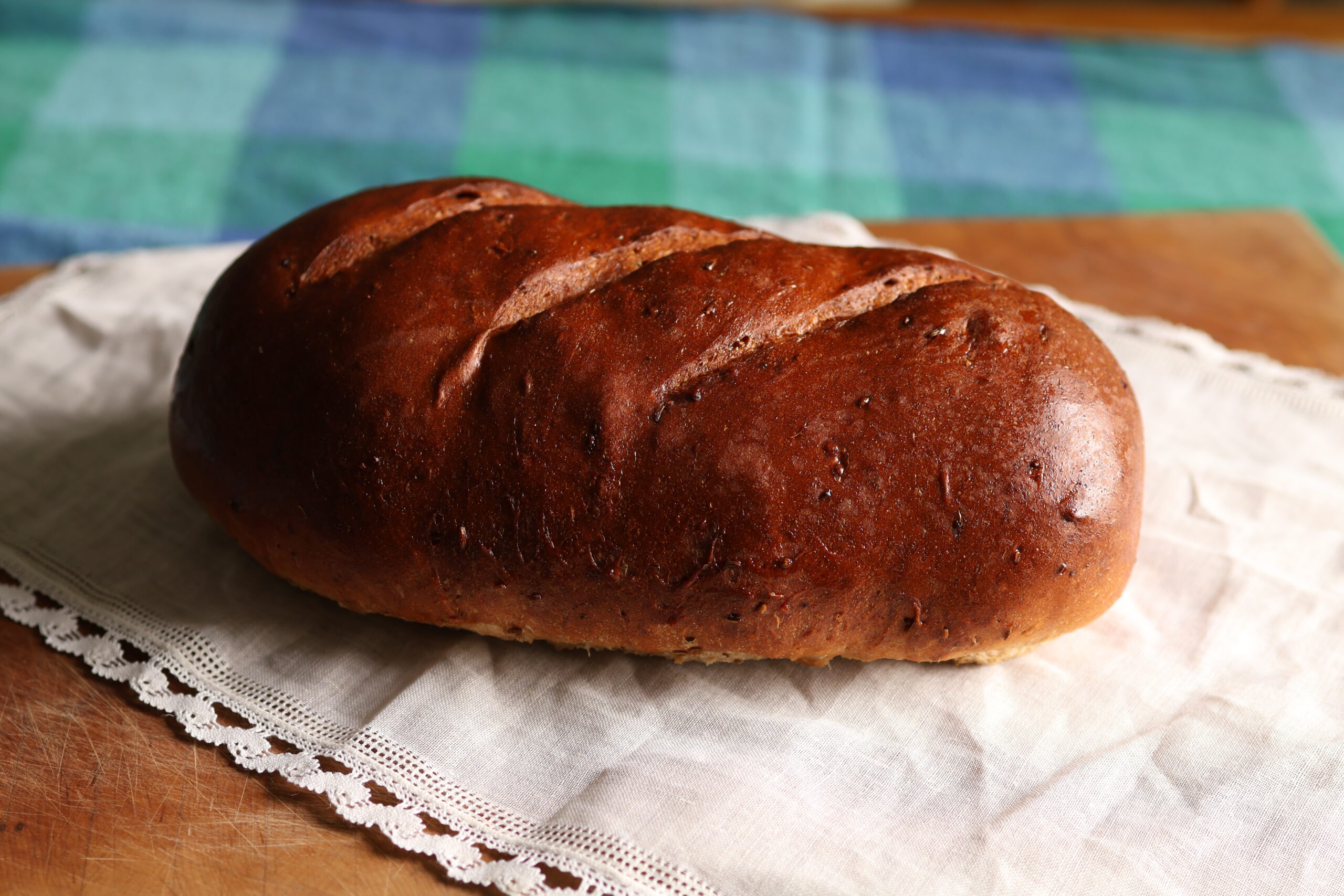 Many Midwesterners from the United States may be familiar with an Americanized version of this bread known as Swedish limpa bread. Unbeknownst to many, the American version descended from this Swedish sirapslimpa, which a spiced, light rye bread made with golden syrup.
To fit the ingredients available to Americans, a loaf made with molasses, brown sugar, anise seed, and orange zest became the Midwestern classic, while the original contains golden syrup as the sweetening agent and fennel, anise, and caraway as the flavorings.
If you don't live in the UK where golden syrup is readily available, you can order golden syrup on Amazon or other online stores to make this delightful Swedish classic that many children in Sweden eat as a snack after school with a slice of hard cheese and a glass of cold milk.
If you aren't a fan of caraway (like me), you might be surprised that the caraway flavor of this bread is quite subtle compared to many rye breads, and just adds a bit of extra interest to the loaf. You can also leave out the spices all together as well. This bread can be found in Sweden both spiced and un-spiced.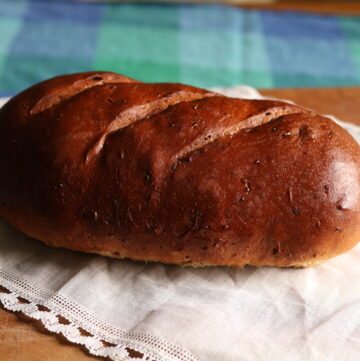 Authentic Swedish Limpa Bread | Sirapslimpa
A lightly spiced Swedish rye bread that is made with golden syrup.
Ingredients
250

ml

whole milk

1 cup

25

g

unsalted butter

2 tbsp

75

g

golden syrup, see note

2.5 oz

7.5

g

instant yeast, 10 g active dry yeast, 25 g fresh yeast

2½ tsp, 3¼ tsp

225

g

bread flour

1⅔ cups

175

g

Swedish rye sift (flour blend made from 105 g bread flour + 70 g rye flour)

1¼ cups (¾ cup bread flour + ½ cup rye flour)

6

g

salt

1¼ tsp

1½

tsp

fennel seeds, crushed

1½

tsp

aniseed, crushed

1½

tsp

caraway seeds, crushed
Instructions
Gently melt together in a saucepan over low heat, the milk, butter, and golden syrup. Pour it in a bowl to cool until it reaches body temperature.

Now you're going to pour the cooled mixture into a stand mixer and stir in the yeast. Let that bloom for 5 minutes.

After 5 minutes, add in the bread flour, Swedish rye sift, salt, and spices. Let that knead on medium speed in the mixer for about 10 minutes, until it is smooth, elastic, and can pass the windowpane test. This is where you stretch a small piece of dough, and if you can see through it slightly and it doesn't rip, your gluten has developed properly.

Place the dough in a covered bowl and let it rise until doubled in size, about 1½-2 hours.

Once doubled, punch down the dough and then roll it out on your work surface until it is about 10-11 inches wide. Fold in the sides and roll it into a spiral, pulling the dough towards the middle of the loaf as your roll so it doesn't end up bigger on the ends. Then scoot your loaf on your surface with two hands to create tension in the loaf. This will help to create better structure.

Place it on your parchment-lined baking tray, cover it, and let it rise until doubled. This may take 30 minutes to an hour.

After it has risen, bake it in a 350℉ / 180℃ pre-heated oven for about 35 minutes. The traditional look of this bread is quite dark with a smooth, unslashed surface. Remove it from the oven and brush it with a couple of tablespoons of golden syrup and let it cool and the surface dry completely before slicing into it. To enjoy it like the Swedish do, eat it with a slice of hard cheese and a glass of cold milk.
Video
Notes
Golden syrup is a form of inverted sugar made during the process of refining sugar. It's very popular in the UK. You can find it on Amazon or at British import stores, or you can substitute it with honey or maple syrup, but do note that honey or maple syrup will not impart the same caramel-like flavor.