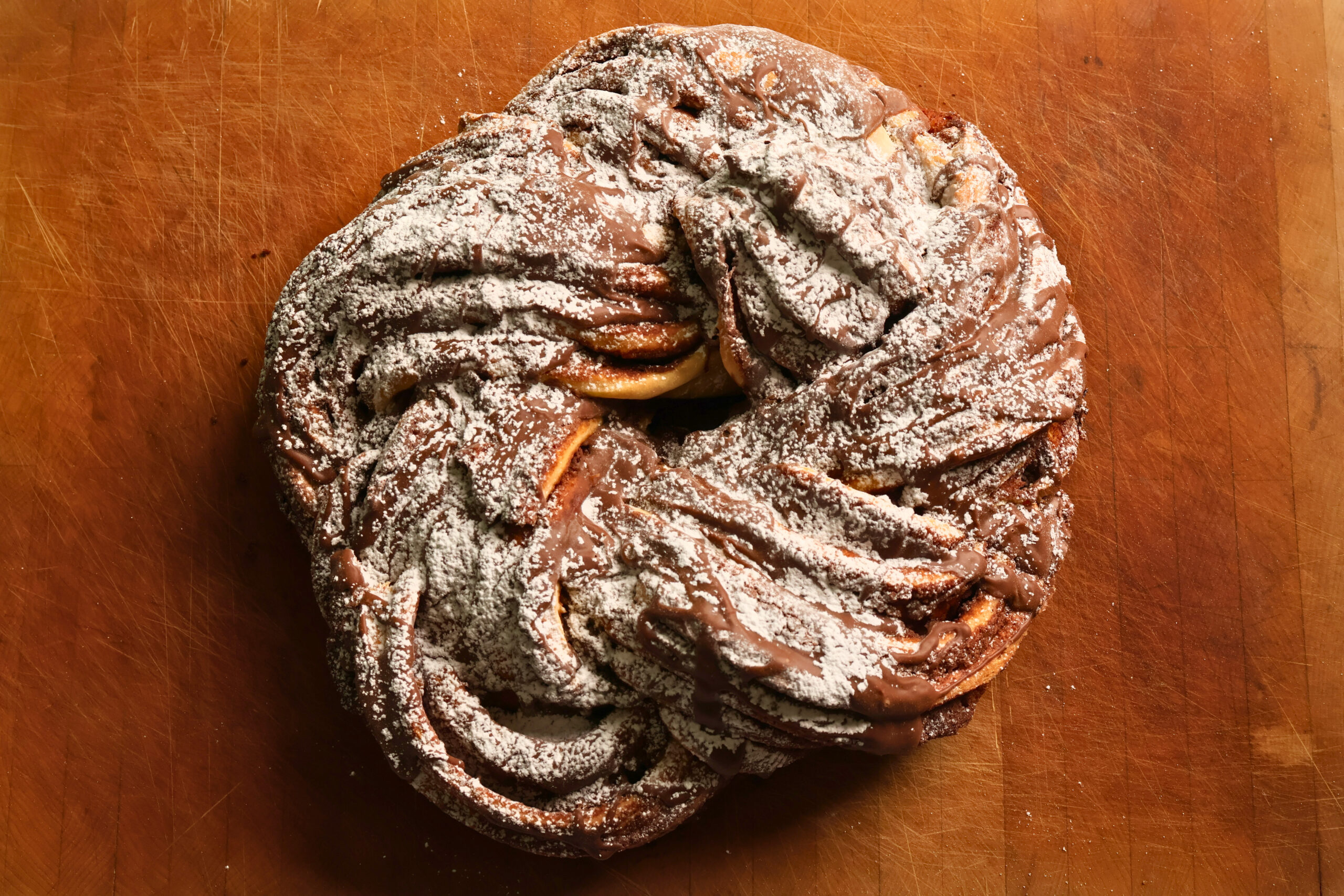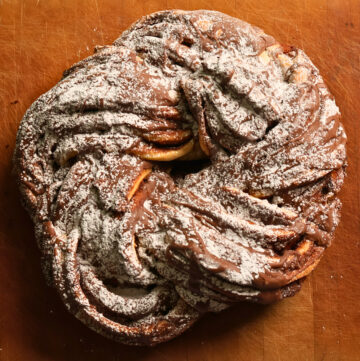 Cinnamon Chocolate Estonian Kringle | Kaneeli Šokolaadi Kringel
A classic Estonian dessert made with a yeasted dough and filled with a cinnamon chocolate filling that is then cut and woven into a wreath. Before slicing to enjoy, the kringle is drizzled with chocolate icing and sprinkled with powdered sugar.
Ingredients
Dough
200

ml

whole milk, lukewarm

¾ cup

20

g

active dry yeast (50g fresh yeast)

7 tsp

2

tsp

granulated sugar

2

eggs, lightly beaten

600

g

all-purpose flour

4 ¾ cups

pinch of salt

100

g

unsalted butter, melted & cooled

7 tbsp
Filling
100

g

unsalted butter, softened

7 tbsp

170

g

granulated sugar

¾ cup

2

tbsp

cocoa powder

1

tsp

ground cinnamon
Icing
170

g

powdered sugar

1½ cups

2

tsp

cocoa powder

2-4

tbsp

milk
Instructions
Combine the milk, yeast, and sugar in a stand mixer, and let the yeast bloom for 5 minutes.

Once the yeast has bloomed, mix in the lightly beaten eggs, and then add in the flour, salt, and melted butter. Knead on medium speed until the dough is smooth, elastic, and pulls away from the sides of the bowl. Don't knead the dough too long or the kringle will end up tough.

Put the dough into a bowl, and then cover and let rise for 30 minutes to one hour, or until doubled in size.

While the dough is rising, make the filling by combining all of the filling ingredients in a medium-sized bowl and then cream together with an electric beater until a smooth paste is formed. Cover and set aside until ready to use.

Punch down the risen dough and roll it out into a large rectangle on your work surface, about 28 x 17 inches, or 71 x 43 cm.

Spread the filling onto the dough using an offset spatula until the filling reaches to about ½ an inch or 12 mm from the edges of your dough rectangle.

Now tightly roll the dough from the long side into a tight cylinder, stretching the last bit of dough over the roll of dough. Then place the seam side down, and using a knife, cut the dough in half lengthwise, leaving an inch or two of connected dough on one side. Face the cut side upwards and twist the two sides of dough around each other. Form a wreath by connecting both ends. Make sure to tightly weave the cut ends into the uncut side, so that they don't pop out as the bread rises during baking.

Place the wreath onto a parchment-lined baking sheet and bake in a 400℉ / 200℃ pre-heated oven for 30-35, or until golden brown.

Once the kringle has been removed from the oven, transfer it to a rack to cool for about 15 minutes, and then drizzle with your chocolate icing made by whisking together the powdered sugar, cocoa powder, and milk until you have a thick drizzling consistency. After drizzling the chocolate icing over the kringle, sprinkle with powdered sugar. Slice and serve while still warm.
Video